Shadowy world of Korea's people smugglers
By Lucy Williamson
BBC News, Seoul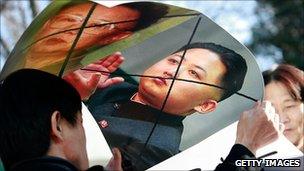 Mrs Kwon looks like she might work for a dull but reputable family business. Her blue jacket and office shoes look uncomfortable. But then what do you wear when your business is smuggling people out of North Korea?
Mrs Kwon is a broker, operating in the shadows of South Korean society. She charges thousands of dollars to send people on one of the most dangerous journeys in the world.
During our first meeting, she takes several calls on her many mobile phones - including one from North Korea. We listen as she talks rapidly with the anonymous contacts who make up her network.
"It's not easy to talk to someone in North Korea," she explains. "You can't just pick up the phone. You have to pre-arrange a specific place they can go to, and a time."
It is hard enough getting information out of North Korea, never mind people.
International communications and travel are tightly restricted to the country's top elite. The country is dependent on aid to feed and fuel itself, and an assessment by the European Commission last month found that more than half a million people were at risk of dying from serious malnutrition, with many people resorting to eating grass.
Mrs Kwon says she makes $2,000-$3,000 (£1,250-£1,875) a month, helping people escape. And she says that is nothing to be ashamed of.
"I'm not a drug-dealer. I'm not bad, I'm just bringing people out. I'm doing something the South Korean government can't do. Yes, I make a profit from it, but it's still saving lives," she says.
Almost 3,000 North Koreans make it to the South every year. Known as defectors, they include economic migrants and political refugees. Once they arrive here, many try to bring family out to join them.
Kim Sal-yun lives in a concrete tower block, a long drive from Seoul city centre. She recently brought her daughter out of North Korea with the help of a broker. Now her parents have asked to come too.
"Nowadays, they're asking for 3.5m won per person to bring someone out of North Korea to China," she says.
"That's about $3,500. And from China to South Korea would cost another $2,500. I don't have that kind of money, so I had to say 'No'. The cost is rising because it's getting more difficult to get people out."
Recent reports - which are very difficult to verify - say North Korea is tightening security along its border with China; the main route for defectors trying to leave. As the risks increase, so does the price.
And it is not just the North Korean guards who pose the risk.
Over the past few years China has launched its own series of crackdowns on the networks operating in its border region, which activists say is having an impact on the industry.
Chon Gi-wan knows that border region well. He is a South Korean pastor presiding over the Durihana Church in Seoul. Most of his congregation are North Korean defectors he helped bring over from the Chinese border.
"North Koreans are used to revering a leader, so when they find church groups like this one in China, they assess who the leader is and just follow him - it's a survival technique," he says.
Mr Chon used to lead groups of defectors out himself - until China banned him, as part of a wider crackdown on missionary groups there.
"The situation has become more difficult because China is barring missionaries from entering the country. And because of that, there are more private brokers working there now, doing it mostly for profit.
"The defectors don't have the money upfront, so they agree to pay the brokers once they arrive in South Korea - which causes a different set of problems, like crime, to deal with the debt."
Joanna Hosaniak is a human rights activist working for one of the main North Korea organisations in the South, called Citizens' Alliance.
She says that the crackdowns by China are leading to a rise in more inexperienced brokers, who are willing to take bigger risks for bigger rewards.
"There are some people I've heard of that are new. But because they are inexperienced, there are a lot of problems.
"Because they don't know how to do this they actually endanger a lot of the North Koreans who are trusting them."
And she says, the "money culture" developing in the border region is seeping into North Korea itself.
"A group of North Koreans has also become attached to this network - who don't want to leave, but are helping to get people out.
"Because North Koreans these days are looking for ways to make money, a lot of money, money-culture in North Korea is spreading, so a lot of people try to get involved with the brokers."
Across town, Mrs Kwon sighs as I ask her what keeps her involved.
She replies: "This work keeps me awake at night but people keep calling me, and I feel I can't say 'No'."
Related Internet Links
The BBC is not responsible for the content of external sites.