Thai press focus on reconciliation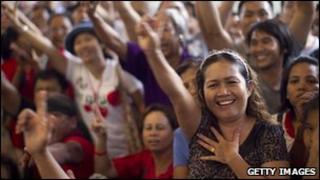 Newspapers in Thailand have expressed the hope that Sunday's surprise landslide election victory for the Pheu Thai party will precipitate an era of national reconciliation.
Commentators have called on party leader Yingluck Shinawatra - sister of ousted Prime Minister Thaksin Shinawatra - to keep her promise to heal the divisions which have plagued the country since Mr Thaksin was deposed by a military coup in 2006.
One paper said that Ms Yingluck, who has little political experience, offered an alternative to previous political leaders. Another observed that voters in Bangkok still blamed the Pheu Thai for its links to the "red-shirt" anti-government demonstrations, which hit the capital last year.
Bangkok The Nation
Every poll is supposed to reflect splits in opinion on welfare, economy, ideology, etc. But not every election has people flocking to polling stations with hatred in their hearts. Again, it's one thing if they hate politicians, but it's another if they hate those voting for "the other side". Our nation can only get back to normal when Thais truly accept their compatriots' difference of opinion as a human right and a natural part of a diverse society. The division was started by politicians, but reconciliation will have to come from the real people.
Pattnapong Chantranontwong in Bangkok Post
Sunday's election result has raised high hopes among the public that the political situation will return to normal as, with an absolute majority for Pheu Thai, there would be no chance of any influential group blocking the party from taking the helm of government. No "invisible hand" would be allowed to interfere with the formation of a new government by Pheu Thai. So, our hope is that Ms Yingluck will keep her promises, that is: tackling the economic problems as her first priority, and letting a neutral party establish a path towards national reconciliation.
Veera Prateepchaikul in Bangkok Post
Thank God the most fiercely contested election in many years is finally over. Yingluck Shinawatra earlier denied that the party has a plan to grant amnesty for her elder brother, deposed former prime minister Thaksin... But then, what is the party's plan for reconciliation? Will the plan incorporate a general amnesty for all, including red-shirt and yellow-shirt protesters involved in violent protests, as well as soldiers involved in the crackdown on red-shirt protesters last year? For any reconciliation plan to work, it must at least respect the rule of law and must not be discriminatory. Above all, forgive but don't forget.
Chiratas Nivatpumin and Srisamorn Phoosuphanusorn in Bangkok Post
By nature, Yingluck Shinawatra doesn't fit the characterisation of a policy wonk, a glib debater or a witty jokester, personalities who can be found by the score among the country's parliamentarians. While some critics may deride Ms Yingluck's qualifications as skin deep, there is no question that for a broad swathe of the population, her sunny, youthful disposition offers a refreshing alternative for voters bored with the masculine godfather caricatures that have dominated national politics for decades.
Bangkok The Nation
Yet again, the [outgoing] Democrat Party has proved itself the most favourable party for Bangkok voters. A huge number of Bangkok voters must have felt upset about the Democrat-led administration's failure to tackle rising prices. However, when the Democrat Party resorted to highlighting the Pheu Thai Party's link to the red riots, Bangkok voters clearly thought twice before casting their ballots. It seems the Democrat Party's last-minute move to attack red-shirts worked magic in keeping most Bangkok voters on its side.
BBC Monitoring selects and translates news from radio, television, press, news agencies and the internet from 150 countries in more than 70 languages. It is based in Caversham, UK, and has several bureaux abroad.