Floods at China mines trap '40'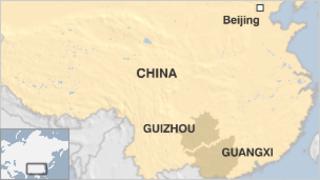 Rescuers in southern China are trying to reach more than 40 workers in two coal mines after one pit was flooded and the other caved in.
They are venting explosive gas and pumping water from a mine in Guangxi region, where three miners died.
Flooding has continued to hamper rescue work at the other mine in the neighbouring province of Guizhou.
China's mines are the world's deadliest; more than 2,600 miners died in accidents in 2009 alone.
Heavy rain was said to have caused the latest accidents.
Slow progress
Emergency workers said water continued to rise inside the Niupeng mine in Pingtang County in Guizhou, Xinhua news agency reported.
The accident there happened on Saturday morning, after which the coal mine officials confirmed 21 workers had been trapped. However, two more were declared missing a day later, Xinhua said.
At the other mine in Guangxi, rescuers are digging into the shaft to reach 19 miners believed to be 390m (1,200 feet) under the ground.
Xinhua said progress appeared to be slow, due to the build-up of explosive gas and flooding.
China Central Television broadcast an interview with a miner who said he heard a loud explosion before the cave-in, which was believed to have killed the three miners.