Hundreds held at Hong Kong rally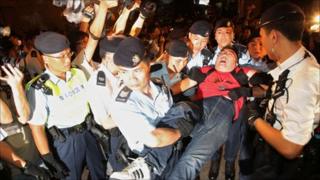 Hong Kong police say they have arrested more than 200 people following demonstrations over rising property prices and proposed political changes.
Tens of thousands had rallied on Friday and police moved in to make arrests after some of the protesters refused to leave the central business district at dawn on Saturday.
Police used pepper spray to break up the protests.
A rally is held every year on 1 July, the day in 1997 Chinese rule returned.
Security bill
A stand-off had lasted for several hours overnight.
The arrests were mainly for obstruction and illegal assembly. Some protesters scuffled with police officers as they were taken to police vehicles.
The police said in a statement: "To restore peace and social order, as well as to guarantee public safety and to let the normal traffic resume, police decided to act and arrest the protesters."
A total of 228 people were detained.
One of the main aims of the protest was to stop a government proposal to scrap by-elections to the legislature and fill the seats according to earlier results.
The protesters see the move as infringing democratic rights.
They are also angry at soaring property prices.
Organisers said 218,000 people had taken part on Friday, although police said it was only a quarter of that.
Legislator Albert Chan Wai-yip, of the People Power party, criticised police actions.
Speaking to the BBC's Annemarie Evans after his release from custody on Saturday, he said: "They used physical force unnecessarily, especially the pepper spray without warning. It was not needed at all.
"The police totally disrespected public safety. We were still 400 metres from the chief executive's residence, all we wanted to do was hand in a petition. We were in a peaceful march."
But the police said only minimum force was used.
In 2003, mass protests forced the government to withdraw a controversial security bill.
The following year, chief executive Tung Chee-hwa stepped down.
Hong Kong reverted to Chinese sovereignty on 1 July 1997. People there have the right to protest, unlike in the rest of China.