China law to limit home demolitions and evictions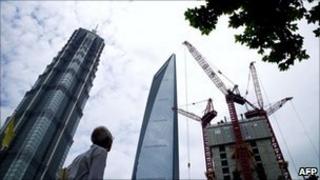 China has passed a law that politicians say will improve citizens' rights and make it harder for the authorities to carry out forced evictions.
The new law, which comes into force next year after 12 years of drafting, rules out violent law enforcement.
And the regulations also state that sites should not be cleared during holidays or at night.
The local authorities often resort to forced evictions when they want to redevelop tracts of land.
These can be unruly, sometimes violent, with police and security guards deployed to make sure residents leave.
The new law says that should not happen unless there is an emergency.
But the rules do not define what constitutes an emergency, so that may give local governments a loophole they can exploit.
The new law, according to its drafters, will protect people's rights while entrusting administrators with the power they need to perform their duties.
Balancing the rights of homeowners and the rights of local governments was difficult.
That is why it took 12 years of argument and debate to get the regulations drawn up.
The state controlled newspapers are calling this "one of the most long awaited laws in China".
It follows other new rules announced in January that promised fair prices to homeowners who lose their property and an end to forced demolitions without legal approval.