London gap year students killed in Thailand coach crash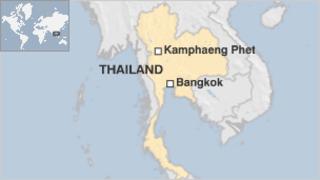 Three 19-year-old gap year students from London have been killed in a coach crash in Thailand.
Conrad Quashie, Bruno Melling-Firth and Maximilian Boomgaarden-Cook were travelling from the capital Bangkok to the northern city of Chiang Mai.
Their coach was in collision with another bus in Khlong Khlung, in the Kamphaeng Phet Province, on Tuesday.
Mr Boomgaarden-Cook's father said the family had been left in "unbearable" pain after the crash.
All three, who landed in Thailand last week, had studied at the Charter School in Dulwich, south London.
'Distinctive and individualistic'
The Foreign Office (FCO) has confirmed the incident and said two other Britons were also on board the coach, one of them required hospital treatment.
One of the two, named as Jack, who had been travelling with the three students and suffered minor injuries, has returned to the UK.
Gerhard Boomgaarden, of Herne Hill, south-east London, said the family were trying to come to terms with their grief about Maximilian.
He said: "I didn't know that a body could physically produce so many tears.
"I didn't know that it could hurt so much and so persistently.
"The last three days have been absolutely unbearable. You can't sleep, you pace up and down, you can't think."
Maximilian was a volunteer for a leukaemia charity, and was due to study history and politics at Manchester University.
"He was very bright and adventurous," said Mr Boomgaarden.
"He was very articulate and had loads of energy. He was always up to something."
David Sheppard, head teacher of the Charter School, told the BBC that the three students as "distinctive and individualistic".
Memorial planned
He said: "They were very popular, lovely boys who are well known amongst our year sixth form and liked and respected by the staff who taught them.
"Our thoughts are with the families at this time."
The school will plan some kind of memorial for the pupils.
An FCO spokesman said: "We can confirm the death of three British nationals.
"A further two British nationals were on board the bus.
"We are in contact with both; one has some injuries and we have visited him in hospital in Bangkok and are providing assistance.
"The families of the deceased have been informed and we are helping them through this extremely difficult time."