Taiwan ex-President Lee Teng-hui 'embezzled $7.8m'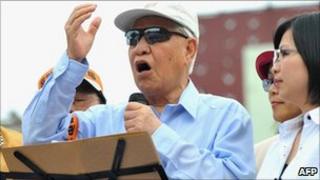 Former Taiwanese President Lee Teng-hui has been charged with embezzling $7.79m (£4.8m) of state funds.
Mr Lee is accused of taking the money from a secret diplomatic fund during his 1988-2000 presidency.
Prosecutors say the 88-year-old took money from the National Security Bureau fund to set up a private think tank, of which he became honorary president.
Mr Lee, who was the island's first directly elected leader, has denied taking the money from the bureau.
He is the second former Taiwanese president to be charged with fraud. His successor, Chen Shui-bian, is serving a 17-year sentence for bribery.
'Political ploy'
In a 23-page indictment, the prosecutors allege that Mr Lee and his right-hand man Liu Tai-ying stole public funds and laundered the money through a property fund.
They say that in 1994 Taiwan wanted to donate $10.5m to an unidentified country, as part of the island's policy of so-called cheque-book diplomacy.
The Foreign Ministry did not have enough money, so a loan was provided by the National Security Bureau.
Mr Lee and Mr Liu are accused of siphoning off almost $8m dollars when the loan was repaid.
The BBC's Chris Hogg in Shanghai says Mr Lee is a leading figure in the Taiwanese opposition, and is in favour of the island declaring formal independence from China.
Although Beijing and Taipei have had separate governments since the civil war ended in 1949, the Chinese government still regards Taiwan as a breakaway province.
The party Mr Lee helped form, the Taiwan Solidarity Union, said the indictment was a political ploy by the current President Ma Ying-jeou, who has fostered warmer ties with Beijing.
"This is incredible. President Ma is using this political tactic when his election campaign is at the lowest point," said the union's Huang Kun-hui.
But chief prosecutor Chen Hong-ta insisted there was evidence to prove Mr Lee's guilt.
"Without the president's approval and instruction, no-one could have used this fund, so the defendant's plea is just an excuse," he said.