Indonesia's maid trade thrives despite Saudi execution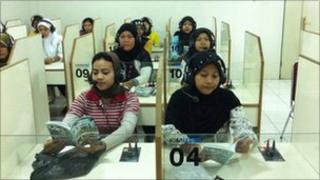 The execution of an Indonesian maid in Saudi Arabia by beheading earlier this month has failed to deter many workers still willing to make the journey from South East Asia to the Middle East.
The family of Ruyati Binti Sapubi wept quietly while others chanted Muslim prayers at her funeral. Huddled together in grief, it is hard to imagine what they are going through.
Ruyati was was convicted of murdering her employer in Saudi Arabia, where she worked as a maid, and then beheaded by sword. The Indonesian government was informed of her beheading only after her death.
Her daughter, Een Nuraini, is now at the centre of a media storm. She insists that her mother suffered abuse at the hands of her Saudi employers.
"I don't believe that my mother killed someone without a reason, it's impossible," she says, holding her mother's photograph.
"She was a good person. Maybe she confessed because she was pressured. Nobody was defending her."
Indonesia has one of the largest migrant workforces in the world. More than a million Indonesian women work as domestic helpers in Saudi Arabia. Hundreds of thousands more are in Hong Kong and Malaysia.
They send home $7bn (£4.3bn) a year in remittances - that money goes a long way towards lifting millions out of poverty, taking a huge burden off the government.
In Ruyati's village, life has visibly improved thanks to the money sent back home. There are new motorcycles on the streets and mobile phones in the pockets of teenagers. It is the same picture in villages across the country.
Personal sacrifice
Most of the women who go abroad to work have little or no education.
Indonesia's government insists that each would-be worker has at least 200 hours of training before they go overseas. It is hoped that this will help young women to avoid problems with their new employers.
In a classroom at one migrant training centre in Jakarta, dozens of women of all ages are being taught to speak basic Arabic, cook, clean and operate vacuum cleaners and washing machines - the likes of which most have never seen before.
Twenty-four-year-old Muslina is leaving behind her four-year-old son to work in Saudi Arabia.
"I come from a village about 15 hours away from Jakarta by bus. I want to work in Saudi Arabia so that I can make enough money to put my son through school," she says.
"It's very difficult to find work where I live. Of course I've heard about Ruyati's story - but I think it's the exception. I just hope I get a good employer - not everyone will end up like Ruyati."
Yahya Nah Lailah, 38, has worked in Saudi Arabia three times in the past decade. She acknowledges that there are problems with the way domestic workers are treated.
"I had to look after four children while I was there. I also cooked and cleaned, and had no holidays for two years," she says.
"Sometimes I would start my day at six in the morning and work until midnight. But I need the money - and that's why I keep going back."
Little protection
Stories like Ruyati's have raised concerns about the level of protection Indonesian workers are afforded overseas.
In November last year, 23-year-old Sumiati Binti Salan Mustapa was taken to a Saudi hospital with broken bones and burns over her body.
Her employer was arrested after allegedly putting a hot iron to her head, and stabbing her with scissors. The woman was sentenced to three years in jail - but was acquitted soon after.
Critics say that this case is just one of many, showing how vulnerable Indonesian migrant workers are. Foreign workers in the Gulf often have little or no legal recourse.
Often their passports are held by employers, and some are not allowed to make contact with their friends and families back home.
Indonesia's President Susilo Bambang Yudhoyono has promised he will do more to protect his people working overseas.
Indonesia and Saudi Arabia have been working on a deal to improve the lot of Indonesian nationals there.
The president has announced a moratorium on sending Indonesian workers to Saudi Arabia, which comes into place on 1 August.
But some Indonesians are not convinced their government is serious about the protection of migrant workers.
Angry demonstrations have been held in the country, demanding justice for Ruyati and those subjected to abuse.
Indonesian officials say a solution is in sight.
"In the future we plan not to allow migrant workers to live in the houses of their employers. That's where the problem partly lies," says Jumhur Hidayat, head of Indonesia's national agency for the placement and protection of migrant workers.
"No-one knows how they are treated. If they live out, then we can have regular inspections monitoring their condition. That way there will be no further cases of abuse," he says.
Indonesia must make sure that the risks of going abroad to work are worth the rewards.