Papua New Guinea's Sir Michael Somare ends 50-year role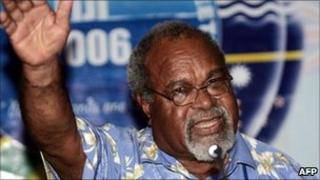 Papua New Guinea's veteran Prime Minister Sir Michael Somare has stepped down from office because of ill health.
The 75-year-old leader, dominant in Papua New Guinea politics since the late 1960s, underwent heart surgery earlier this year in Singapore.
Sir Michael was appointed as prime minister in 1975, when the country gained independence from Australia.
It is not known when a decision will be made about a permanent successor. Sam Abal is the acting prime minister.
Sir Michael gained prominence initially as a leader in the independence movement before becoming country's first prime minister.
A chronic heart condition forced him to temporarily step down last December.
Then, this April he had to serve a two-week suspension from office when he was found guilty of official misconduct after failing to submit full financial statements in the 1990s.
Afterwards, he vowed to return as prime minister, but instead remained in Singapore where he has been receiving medical treatment.
Sir Michael's son, Arthur, said his father was critically ill following three heart operations, and had decided to step down permanently as prime minister and also to retire from politics.
The veteran leader's deputy, Sam Abal, has been the acting prime minister.
Earlier this month he sacked two of his leading rivals - the country's foreign minister and its energy minister - in what was seen as a move to consolidate his position.
Recently, Mr Abal's 21-year-old son was accused of murder after the body of a woman was discovered in the banana garden of the family home in the capital Port Moresby.
National elections are not expected until the middle of next year.