China's Hu Jia release: Guarded welcome from Europe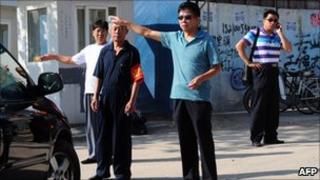 China's release of prominent dissident Hu Jia has been given a cautious welcome by European officials.
EU foreign affairs chief Catherine Ashton said it was "important to keep an eye on how [Mr Hu] is treated".
European Parliament President Jerzy Buzek said Mr Hu and other activists should be allowed to carry on "everyday life without further hindrance".
Mr Hu, 37, was freed on Sunday, after serving his three-and-a-half-year sentence for "inciting subversion".
There is a huge security presence outside his Beijing home and journalists are being kept out, reports the BBC's Damian Grammaticas in the Chinese capital.
'Silenced'
Mr Hu's wife, Zeng Jinyan, told Reuters news agency she was happy about her husband's release, but worried about his health as he suffers from cirrhosis, a chronic liver condition.
Last week, the outspoken artist Ai Weiwei was also freed.
Mr Ai's detention in April prompted a global campaign for his release. The Chinese authorities say Mr Ai, 53, has confessed to tax evasion.
It appears that - like Ai Weiwei - Mr Hu has been silenced, put under close surveillance and banned from talking to the media, our correspondent says.
Ms Ashton's spokesman, Michael Mann, said: "Obviously we welcome the fact Hu has been released.
"But it is important to keep an eye on how he is treated from here on in. We hope Hu is given full rights."
The European Parliament awarded Mr Hu the EU's top human rights award, the Sakharov Prize, in December 2008.
The assembly's president Mr Buzek, a former Polish premier, said "hopefully, we will be able to welcome Hu Jia in person" to collect his accolade.
Meanwhile, German Foreign Minister Guido Westerwelle said he would raise human rights this week with China's Premier Wen Jiabao, who is on a three-leg trip to Europe.
'Difficult topics'
On Sunday, Mr Wen toured a Chinese-owned car factory in the British city of Birmingham, after visiting Stratford-Upon-Avon, the birthplace of playwright William Shakespeare.
China's premier, who began his trip in Hungary, is due to arrive in the German capital Berlin on Monday with government ministers and a business delegation.
Mr Westerwelle told the Welt am Sonntag newspaper: "The quality and depth of our relations allows us to talk about difficult topics."
He pledged to underline "how important freedom of expression, media freedoms and respect for human rights are to us".
While Mr Hu was serving his sentence following his conviction in 2008, his wife was under regular police surveillance, and often prevented from talking to journalists.
The charges against Mr Hu related to five articles he had written as well as interviews he had given to journalists in which he was critical of the Chinese authorities.
Mr Hu had also campaigned for Aids sufferers and for protection of the environment.
Missing detainees
In 2007, he was placed under house arrest after he and his wife made a documentary about their experiences of living under constant police surveillance, and posted it on the internet.
She says pressure was put on her landlord to force her out of her home recently, and on potential employers to prevent her working.
Her treatment echoes that of Liu Xia, the wife of the jailed Nobel Peace Prize laureate Liu Xiaobo.
Although she is not known to have been charged with any crime, she was picked up soon after it was announced that her husband had won the prize and has not been seen since.
Around two dozen people in China have been seized this year and held at secret detention centres, including Ai Weiwei, several lawyers and activists, our correspondent says.
Most of those released have refused to talk, apparently pressured or intimidated into staying silent. Some are still missing.