US 'stands by Philippines' amid South China Sea tension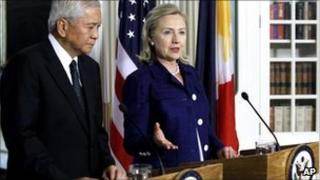 US Secretary of State Hillary Clinton has said Washington is committed to the defence of the Philippines, amid rising tensions in the South China Sea.
She was speaking after talks with her counterpart Albert del Rosario.
She said the US would honour its mutual defence pact with Manila and offer the Philippines affordable weapons.
Several Asian nations claim territory in the South China Sea; Chinese ships have recently encroached on areas to which others have declared ownership.
Speaking in Washington on Thursday, Mrs Clinton said the US would not take sides in the South China Sea dispute.
But by reaffirming her commitment to a long-standing defence treaty with the Philippines, she is clearly taking Manila's concerns seriously.
The Philippines has complained of nine separate Chinese incursions into its territorial waters since late February, and Vietnam has also accused China of harassment in the region.
The area around the small Spratly and Paracel islands is hotly contested because it is thought to be rich in oil and gas.
Six nations claim territory there.
But China insists the dispute is a regional matter and has urged the US not to get involved.
As a former US colony, the Philippines still has close ties with America.
The two countries are due to hold joint military exercises next week, and the US military helps the Philippine government combat an Islamic insurgency.
But the US is still remaining noncommittal about whether it would actually assist militarily if the South China Sea row escalated.