Indonesia: Court 'acquits Playboy editor Erwin Arnada'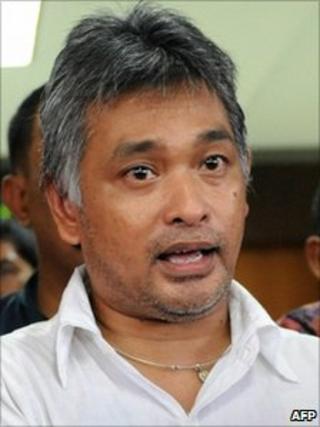 Indonesia's Supreme Court has acquitted Playboy editor Erwin Arnada of distributing and profiting from indecent pictures, his lawyer said.
Todung Mulya Lubis told BBC Indonesian that Mr Erwin was now a free man.
"We ourselves have not received a copy of its decision, but the Supreme Court said the verdict had been issued and an application is granted," he said.
The magazine contained no nudity and critics argued the trial highlighted the growing power of Islamist groups.
Mr Erwin had been arrested on the island of Bali and later jailed after ignoring orders to surrender following the imposition of a jail sentence of two years for indecency in August 2010.
Islamist groups forced Indonesian Playboy to close down after only a few issues in 2006, for publishing images of women, some of whom were scantily clad.
The Islamist Defenders Front, a hardline Muslim group in Indonesia, described Mr Arnada as a "moral terrorist", and the group criticised the authorities for failing to track him down.
The Indonesian parliament passed a controversial anti-pornography law in 2008, which was backed by Islamist groups.
But the law also prompted protests across Indonesia, particularly on the predominantly Hindu island of Bali - a favourite destination for tourists.