Christchurch quake: New Zealand to buy ruined homes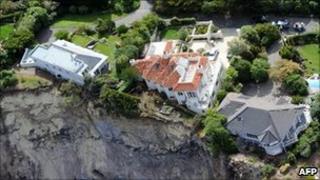 New Zealand's government has agreed to buy more than 5,000 homes wrecked by Christchurch's devastating earthquake.
The authorities say areas of the city will have to be abandoned for several years and estimate the cost of buying the homes at NZ$600m (£300m; $500m).
Prime Minister John Key said the government was still considering whether a further 10,000 homes would have to be demolished.
February's earthquake killed 181 people and left thousands homeless.
The February tremor was part of a sequence of thousands of quakes and aftershocks that have hit the city since last September.
The government has divided the city up into four colour-coded zones - red, orange, green and white.
Mr Key said it would be three to five years before any rebuilding could take place in the red zone.
"A minimum of 5,000 homeowners were in a situation where they couldn't get a property rebuilt on their land for the entire time that their children were in high school," he said.
The government would offer to pay them for their homes or their land, depending on their insurance situation, he said.
A further 10,000 homes in the orange zone are still being assessed.
The government has been criticised for taking too long with the compensation claims.
But Mr Key said the Earthquake Commission had taken on a lot of extra responsibility in recent months, and was dealing with 350,000 separate claims.
Meanwhile, the government has set up a website for residents to find out which zone their homes are in.