Saudi Arabia 'apologises over Indonesia maid beheading'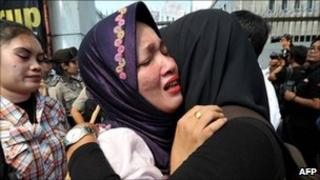 Saudi Arabia has apologised to Indonesia for executing a maid without informing Jakarta, officials say.
Indonesian officials said the Saudi ambassador to Jakarta had promised that such incidents would not happen again.
The beheading of Ruyati binti Sapubi on Saturday caused an outcry in Indonesia, where MPs called for a ban on workers being sent to the Middle East.
The 54-year-old maid confessed to killing her boss with a kitchen knife after suffering abuse.
Saudi Arabia has not yet released any official comment on the incident.
But Indonesian foreign ministry spokesman Michael Tene told journalists on Wednesday: "The ambassador apologised and regretted the situation and said that such a thing wouldn't happen again."
About 1.5 million Indonesians work in Saudi Arabia - many of them as domestic maids.
But there have been rows over the alleged mistreatment of maids in the recent past.
In April a Saudi woman, convicted of beating and torturing an Indonesian maid, had her conviction quashed on appeal - sparking protests in Indonesia.