Okinawa row: Governor Nakaima dismayed at US base delay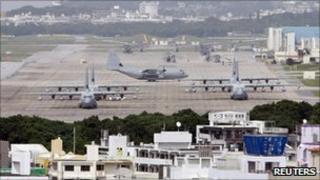 A Japanese regional governor has criticised plans to delay moving a controversial American airbase on the island of Okinawa.
Hirokazu Nakaima, governor of Okinawa Prefecture, said it was intolerable to allow the Futenma base to remain in its current location.
Japanese and US officials announced on Tuesday that they had dropped a 2014 deadline to move the base.
Okinawans say the base is too close to the regional capital, Naha.
Locals say having a military base so near the city is dangerous and noisy, and want it removed from the island altogether.
But the US and Japan on Tuesday reaffirmed their commitment to moving the base to a more rural area on Okinawa.
Mr Nakaima, who has frequently criticised the location of the base, said the issue needed to be resolved as soon as possible.
"I believe that making the presence [of the base] there semi-permanent should never be tolerated," he said.
He also criticised the planned relocation of the base to Camp Schwab, in a rural area much further north.
He said it was "practically impossible" to build the kind of facilities the US needed in the area, given the opposition of local residents.
Many Okinawans feel that they shoulder too much of the burden of the 50-year-old US-Japan defence alliance.
About half of the US military personnel based in Japan are in Okinawa.
The location of the Futenma airbase has proved particularly controversial.
Many locals supported a plan by former Prime Minister Yukio Hatoyama to move the base off Okinawa entirely.
But Mr Hatoyama was forced to resign last year after he admitted he could not keep his promise to move the base off the island.