Australian flights resume as Chile volcano ash clears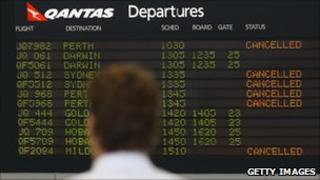 Flights are gradually resuming from airports across Australia after two days of cancellations caused by an ash cloud from a Chilean volcano.
Qantas and Virgin jets took off from Adelaide on Wednesday morning. Melbourne, Canberra and Sydney airports were expected to resume flights later.
But the ash is heading towards New Zealand, where disruption is expected.
Many travellers spent the night at airports as flights were disrupted for the second time in just over a week.
Last week, tens of thousands of people had their travel plans ruined as ash from the Puyehue-Cordon Caulle volcano passed over several Australian cities and New Zealand.
By last Friday, all flights were running normally, but the ash cloud circled the Earth for a second time and caused further disruption.
This time, the plume hovered at between 20,000 and 40,000ft (6-13km), which experts advised was too low for airlines to fly underneath.
If volcanic ash particles are ingested into a jet engine, they accumulate and clog it with molten glass, which can cause the engine to shut down.
'Optimistic'
On Wednesday, Andrew Tupper of the Australian Bureau of Meteorology's Volcanic Ash Advisory Centre said Hobart would be the only state capital with ash over it at the end of the day.
He told Australia's ABC that most of the ash was heading towards New Zealand and was unlikely to reappear over Australia.
"The volcano is still erupting but not at the same levels. It is very unusual for ash clouds to do two circuits of the globe," he said.
Flights to New Zealand will continue to be disrupted by the ash cloud, but Civil Aviation Safety Authority spokesman Peter Gibson said it was possible all flight schedules would return to normal on Thursday.
Despite the forecast, passengers are still facing significant delays and are advised to contact their airlines for updates.
Virgin said 13,000 domestic passengers would be affected on Wednesday, while Qantas said it expected 30,000 to be delayed, on top of the 20,000 who were left stranded by Tuesday's disruption.
Greyhound is running extra bus services in Adelaide, Melbourne, Canberra, Sydney and Brisbane to help clear the backlog, while trains between Brisbane, Sydney and Melbourne will have extra carriages.
The Tourism and Transport Forum said the ash had caused the largest disruption to Australia's aviation industry since a pilots' strike in 1989.
Analysts at Macquarie Equities estimate the disruptions will cost Qantas about $21m and Virgin $11m.