Philippines Maguindanao 'massacre' trial to webcast live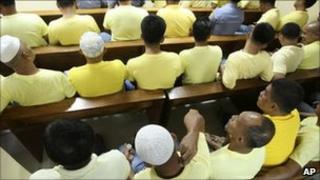 The trial of members of a Philippines clan accused of carrying out the worst massacre in the country's recent history is to be broadcast live online.
The trial is already being shown live on TV, but it is the first time the Philippines has allowed online viewing.
The webcast from Manila will be posted on the Supreme Court's website.
Senior members of the influential Ampatuan family are among 196 people on trial for the killing of 57 people in Maguindanao province in November 2009.
In a statement, the court said the trial would now be "accessible to viewers worldwide, continuously and without interruption".
When the courtroom is in session, the proceedings will be accessible on the Supreme Court website, for computers and all mobile internet devices, it said.
Chief Justice Renato Corona had ruled last week that footage from inside the courtroom could be broadcast live on television and radio.
President's backing
The move was backed President Benigno Aquino, who said all Filipinos should be able to watch and learn from the trial.
But media organisations complained about the strict conditions of the permit, which included a ban on inserting commercial breaks.
Court spokesman Midas Marquez said improvements were being made to the Supreme Court website to facilitate the webcast.
"Hopefully, with the live webcast, the objections regarding no commercial breaks or gaps, and continuous broadcast of entire proceedings will be addressed," he said.
The massacre on 23 November 2009 took place in Maguindanao provinces, where the Ampatuan clan is hugely influential.
Prosecutors say around 100 gunmen attacked a convoy of people travelling to register a member of the rival Mangudadatu family - Esmael Mangudadatu - as a candidate in provincial elections.
The attack left 57 people dead, including Mr Mangudadatu's wife, his pregnant sister, several other women and 31 journalists - the bodies were found in a mass grave in a remote mountainous area.
Clan leader Andal Ampatuan Sr and his son Andal Jr have pleaded not guilty to charges of orchestrating the attacks.
Correspondents say the high-profile trial is being seen as a test of the Philippines' justice system, where critics complain of a culture of impunity for people with political connections.