Christchurch quake: Rattled by aftershocks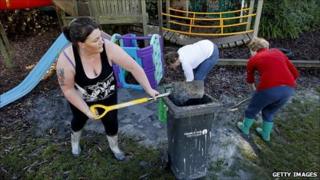 Four months after the Christchurch earthquake, the city and its surrounding areas have been hit by major aftershocks.
Recently our council held a "Rebuild Christchurch Expo", which was attended by top international architects, along with other experts.
Some 10,000 of us attended, and 30,000 ideas were contributed to the proposals for transport, housing etc.
It was a positive experience and, finally, we could see a way forward - until bang, we were slammed with two big quakes on Monday 13 June.
The first - magnitude 5.7 - was at 1pm. Its epicentre was 10km from the city centre, just 3km from us in Sumner.
The malls and buildings were evacuated, children were collected from schools and neighbours popped out of houses to check on one another.
Knowing we would get a flurry of aftershocks, we were prepared - but not that well prepared - for the big 6.3m, which hit us just over an hour later. Its epicentre was under Sumner - it was shallow, at only 9km deep, and the noise was thunderous.
The shaking was violent. I was thrown to the floor and my shoulder was hit heavily by a sideboard jumping towards me. My shoulder is now all shades of purple and yellow.
What was left of the crockery was thrown out of closed cupboards, the microwave - which had only just been replaced - smashed to the floor, and everything vertical was pitched to a horizontal position in a heap in the middle of the room.
We discovered that it was the same for every room in the house.
Within seconds of it stopping, we were all out on the street mobile phone in hand texting loved ones. We know from experience not to call, as it overloads the network - texts are more likely to get through.
Water cascaded from our houses and up through the broken road. The windows in my neighbours' houses were broken again and the walls were crumpled.
My son quickly turned off the mains water but the broken cylinder upstairs in our house had already drenched everything in the wardrobe below. Yet again, my carpet was a squelchy mess.
It was the same for everyone.
Across at the cliff face, huge dust clouds rose upwards, indicating where the cliff edges had let go - in some cases taking the houses with them.
We knew this was really bad and hoped no-one has lost their life. We all keep saying, 'Oh no, no, not again', but it has happened again and how are we going to cope this time? We are worn out.
We turned on our portable radio and stood on the pavement in a huddled group. Our cathedral is falling apart and it has now lost its beautiful and precious rose window. The early news we received was that there were no deaths but there were some serious injuries.
So we lived without power and water again - but not for long this time as many of the residents left the hill on foot to go and stay elsewhere. The dark and the shakes were not a good combination.
A police cordon was instantly set up halfway down the hill, where sizable mud slides and rock falls had blocked the road.
Kind farmers opened their private land so we were able to drive across their paddocks to join the road further round on the hills. Difficulty, time and the cost of petrol is added to our stress of brokenness.
Portaloos still dot the area but now the cleaners cannot get up the hill to clean them. Yuk. Glad I still use the bucket and hole in the garden.
Newspapers no longer get delivered, the emergency repair people have not been able to get to us, the rubbish trucks cannot reach us, and the gas company cannot deliver much-needed gas bottles for cooking.
Thank goodness some areas of Christchurch are untouched. But people on the flat in the east face massive liquefaction problems again, and they are up to their ankles in it. This grey sludge - now often mixed with sewage - has bubbled up inside and outside the houses.
People in the devastated pockets of Christchurch are displaced, despondent and almost worn out by this repetitive assault by nature. We can't wait for Mother Nature to hold up the white flag and call it a truce. Lets hope its not too far away.
So next time, I hope to write about the safest, most beautiful city in the world that we will rebuild, a city to be really proud of and a city to attract visitors from around the globe.