Singapore urges China to clarify South China Seas claim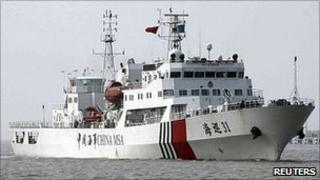 Singapore has called on China to clarify its claims in the South China Sea following recent confrontations with Vietnam and the Philippines.
Singapore said China's "ambiguity" had caused international concern.
Singapore has no territorial claims in the area, but said it had an interest "in anything affecting freedom of navigation in international sea lanes".
Several Asian nations claim parts of the strategically important waters that may also contain oil and gas deposits.
Vietnam, China, the Philippines, Taiwan, Brunei and Malaysia have competing claims to the Spratly Islands, while Beijing and Hanoi are in dispute over the Paracels.
Disputes debated
In a statement, Singapore's foreign ministry said: "We... think it is in China's own interests to clarify its claims in the SCS (South China Sea) with more precision as the current ambiguity as to their extent has caused serious concerns in the international maritime community."
It lays no claim to the disputed waters but, along with the rest of the region and the US, it has a strong interest in freedom of navigation.
Singapore is a major trading nation and also hosts a US naval facility.
The statement came after one of China's largest maritime surveillance ships, the Haixun 31, docked in the city-state after passing through the South China Sea.
The Haixun-31, which left China last Wednesday, intended to monitor shipping and "protect maritime security" on its way to Singapore, Chinese state media reported at the time.
Singapore's foreign ministry said there was an unusual amount of interest in the ship.
Tensions in the long-standing dispute have escalated in recent weeks, with Vietnam and the Philippines accusing China of increasingly aggressive actions in the pursuit of its maritime claims.
For the third week running, anti-China demonstrations have been held in Vietnam.
Vietnam staged a live-fire exercise last week near disputed waters, which Chinese state media denounced as a military show of force.
China has publicised a series of recent military exercises off its coasts, and Vietnam has planned exercises with the US next month.