North Korea demands defectors' return from South Korea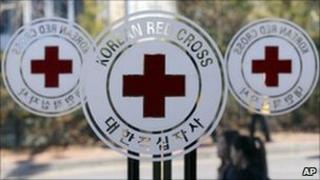 North Korea has demanded the return of nine apparent North Korean defectors who crossed into South Korean waters by boat, Seoul officials said.
"North Korea's Red Cross asked for an immediate repatriation of the nine," Seoul's unification ministry said.
The three men, two women and four children reportedly crossed the marine border off the west coast of the peninsula early on Saturday.
It follows a similar row earlier this year over the fate of 31 North Koreans.
A fishing boat carrying 31 North Koreans drifted into South Korean waters in thick fog in February.
Seoul repatriated 27 of those on board but refused to hand over the other four, saying they had expressed a desire to stay in the South.
Pyongyang accused the South of coercing the remaining four people to stay.
This time, Pyongyang demanded the return of the nine apparent defectors, citing media reports that they were under investigation by Seoul authorities.
"What's most important is their own free will, whether they want to return home or stay here," South Korea's foreign ministry spokesman Cho Byung-Jae said.
Analysts say few attempt to make the dangerous crossing by sea. Most people wishing to leave North Korea illegally do so via the northern land border with China.