Woman's body found in Papua New Guinea leader's home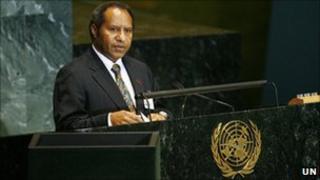 Police in Papua New Guinea are investigating the discovery of a woman's body at the home of the acting prime minister, Sam Abal.
The body was found early on Monday in the garden of Mr Abal's residence in the capital Port Moresby.
Mr Abal's adopted son, Teo, was arrested on Wednesday; he had been missing since the body was found.
Mr Abal is in charge of the government while the veteran leader, Michael Somare, recovers from heart surgery.
The cause of the woman's death is unknown but the Papua New Guinea police launched a murder investigation.
Mr Abal said that he and his family were "immediate suspects" in the case, which he described as an "unfortunate and regrettable incident".
"The alleged murder took place within the perimeters of my private home," Mr Abal said in a statement published by the Post Courier newspaper.
"All family members living with me are immediate suspects and are subject to investigation and questioning by police," he added.
Police had been searching for Mr Abal's adopted son since Monday. He was allegedly the last person to be seen with the woman.
Sam Abal has moved into a local hotel and said he would not interfere in the case.
If any of his family members were involved they would face the full brunt of the law and not be treated differently from anyone else, he said.
Mr Somare, who is 75, has led the country for almost half of its 36 years of independence.
Amid failing health, he stepped down in December 2010 to face a tribunal investigating misconduct for allegedly failing to submit full annual financial statements in the 1990s.
Mr Somare replaced his then deputy in favour of Mr Abal, who is a close ally and had served as foreign minister .