Burmese troops and Kachin militia clash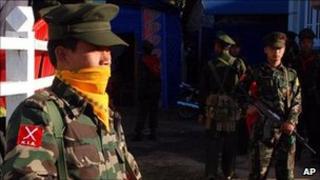 Burmese troops have been involved in deadly clashes with Kachin rebels near a northern site where China is building a hydro-electric power plant.
At least four rebel fighters and a number of government troops have died.
A truce between the government and rebels from the Kachin ethnic minority broke down last year when rebels refused to become state border guards.
It is among the worst violence reported in Burma since March, when the military handed power to a civilian government.
The current fighting began on Thursday.
It appears to have started with a government offensive to force rebels belonging to the Kachin Independence Army (KIA) away from an outpost in an area where China is building two dams as part of a hydro-electric power plant.
Mediation appeal
The US Campaign for Burma, a Washington-based lobbying group, said hundreds of Burmese government troops had been deployed.
Four rebels and 16 government troops had been killed, while more than 2,000 people had fled the fighting, mostly into China, the group said. A rebel spokesman confirmed the rebel deaths.
China has said that about 30 Chinese engineers and hydro-electric power plant workers were caught up in the conflict, apparently held by government troops.
A Kachin rebel spokesman later told the BBC that the workers had been allowed to leave.
He said the conflict could be solved only through the mediation of a neighbouring country, though he did not name one.
"We don't want the war to spread country-wide," said the spokesman, La Nam.
"We don't believe the negotiation between government and us could be possible to stop the conflict. We wish a powerful neighbour country to mediate between us to relax the tension."