Fukushima City to give children radiation dosimeters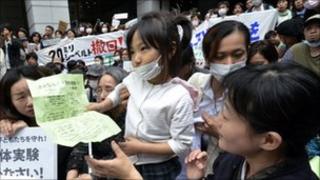 Japan's Fukushima city is to give radiation dosimeters to 34,000 children to measure their exposure from the tsunami-hit nuclear power plant.
All children aged between four and 15 will wear the devices for three months, and data will be collected monthly.
The city lies about 60km (37 miles) from the Fukushima Daiichi plant, which was badly damaged in the 11 March quake and tsunami.
More than three months on the facility is still leaking radioactive material.
Fukushima city officials said dosimeters would be given to children to wear from September. The devices will also be distributed to those with children under three years at the request of parents.
The city is outside the 20km (12-mile) no-go zone around the nuclear plant, but many residents are concerned about radiation.
An unnamed city official quoted by AFP news agency said radioactivity in the city had been below the official threshold for health risks, and that the dosimeters would be read once a month to assess cumulative radiation exposure.
Meanwhile, Japan's cabinet approved a draft law to help the plant's operator, Tokyo Electric Power Company (Tepco), pay billions of dollars in compensation to victims of the nuclear crisis.
More than 80,000 residents have been evacuated from their homes. A voluntary evacuation policy is operating in the area 20-30km from the plant.
The approval is a step forward in a slow process that has frustrated those affected.
Trade Minister Banri Kaieda, whose ministry regulates Tepco, said the government aimed to submit the bill to parliament for approval as soon as possible.