Nepal declared free of mines five years after civil war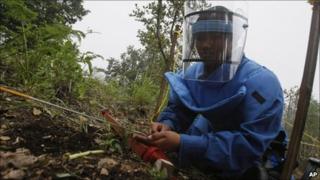 The UN has declared Nepal free of landmines after troops destroyed the country's last minefield.
The declaration came five years after the end of the civil war between the army and Maoist rebels.
Prime Minister Jhalnath Khanal flipped a switch to trigger the last landmine - laid to protect the main civil aviation radio tower south of Kathmandu.
Since the end of the conflict, mines have caused 473 casualties in Nepal - 78 of which were fatal.
Nepal is now the second country in Asia after China to become landmine-free.
'Historic'
"One more milestone on the road to peace, as we declare Nepal minefield-free," UN official Robert Piper declared.
The tower at Phulchoki is used by flight controllers to communicate with aircraft flying across the Himalayan nation.
It was guarded by an army camp that was surrounded by a minefield to protect it against attacks by Maoist rebels.
"Today is a historical day because Nepal has been liberated from all kinds of landmines," Mr Khanal said.
The UN however cautioned that there are still areas where both sides planted homemade bombs - and efforts to clear those continue.
Landmines explode by themselves when someone walks nearby, while homemade bombs are normally deliberately set off by a combatant.
The Nepalese army laid 53 minefields during the war - many around key strategic locations such as telecommunication towers and army bases.
Phulchoki minefield site manager Captain Diksha Raj Bhandari told the BBC that the steep terrain and harsh weather conditions meant that removing the mines was often a delicate and painstaking operation - and one that had claimed the lives of three army personnel.
Clearing the mines was agreed under a 2006 peace deal with the Maoist rebels.
The remote location of many of the fields meant the task took far longer than the 60 days first anticipated.
The BBC's Joanna Jolly in Kathmandu says the blowing up of the last mine at Phulchoki was a symbolic end to this side of the conflict - but Nepal's political parties still have a long way to go before they secure peace.
The focus now moves back onto the politicians who need to work together to ensure conflict does not return to the country, our correspondent adds.
Despite a recent agreement to extend the deadline for writing a new constitution and deciding the future of some 19,000 former Maoist soldiers, there is still no clear progress on these issues.
Although it has committed to mine clearing, Nepal is yet to sign the international Ottawa treaty banning all landmines.