New Zealand quake dents Christchurch rebuilding hopes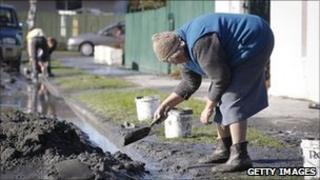 A series of earthquakes that hit the New Zealand city of Christchurch has confirmed fears that many homes will have to be abandoned, officials say.
Prime Minister John Key said Monday's tremors had hit the same parts of the city that were devastated by the 22 February, which killed 181 people.
Mr Key said he now had "a reasonably clear picture about what land won't be able to be rebuilt on".
He had earlier said 10,000 homes would be destroyed.
But the prime minister declined to specify which areas he was talking about, saying homeowners would be told when negotiations with insurers were completed.
"There are certainly in the order of thousands of homes that are affected," he said.
Christchurch is struggling to recover from the February quake. Recovery and reconstruction costs are expected to total at least NZ$15bn ($11bn; £7bn).
More tremors
The latest quakes struck just miles from the city, and left about 50,000 people without power and water overnight.
Smaller quakes continued to rock the city on Tuesday, but no further damage has been reported.
Radio New Zealand reported that most homes now had water services restored, but many were still without power.
Officials said 75 buildings that were previously thought to be safe before Monday's quakes had now been condemned.
Several other buildings collapsed completely, and Christchurch Cathedral, badly damaged by February's tremor, lost more of its masonry.
But ministers expressed hope that the latest quakes would not hold up rebuilding work.
"The damage that occurred yesterday has simply exacerbated the damage that occurred in the two previous events, so I don't think it's going to hold us up or put us back," said Earthquake Recovery Minister Gerry Brownlee.