Fukushima plant: Six more workers exposed to radiation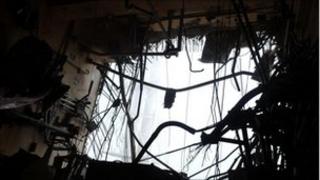 Six more workers at Japan's crippled Fukushima plant are reported to have been exposed to excessive radiation levels, bringing the total to eight.
The workers had been in the control room or cleaning up the nuclear plant following the earthquake and tsunami that damaged it March.
The disaster caused meltdown at three of the reactors, and radiation leaks.
It was the world's worst nuclear accident since Chernobyl in Ukraine in 1986.
The operators of Fukushima, Tokyo electric Power (Tepco), initially reported that only two employees had been exposed to excessive levels of radiation.
The possible exposure of six more workers was discovered after almost 2,400 employees underwent preliminary testing, officials said.
A spokesman for Japan's Nuclear and Industrial Safety Agency, Hide Nishiyama, said the development was "extremely regrettable".
Tepco said none of those affected were showing immediate health problems, but they would require long-term monitoring.