Australia's winter denial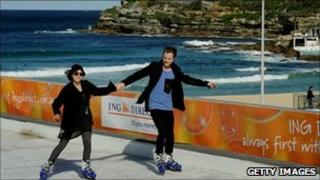 Finally I am starting to get accustomed to the rhythms and eddies of the Australian year.
Autumn is ushered in, of course, with the appearance of errant rugby league players on the front pages and back.
Summer begins the moment that Jim Maxwell clears his throat and says "Good Morning from the Gabba".
Spring, admittedly, is harder to locate, perhaps because there is no obvious sporting pointer - suggestions here are most welcome - but winter is a no-brainer.
It starts the moment that I rummage through the spare room in search of our gas heater, and my wife hauls on her Ugg boots. For others, I hear, is the faint whiff of mothballs on public transport from clothes put away in storage throughout the summer.
One of the most common misconceptions about Australia concerns its weather and its seasons. Perhaps it is all those tourism advertisements again, but the idea appears to have taken hold that the Great Southern Land is bathed continuously in glorious sunshine, and that this is a country of seasonal homogeneity.
In some parts of the country that may be true. But in the south-eastern quadrant, which harbours the majority of the Australian population, it gets surprisingly chilly in the winter.
When I say chilly, I do not mean European or North American chilly. But it is cold enough to prevent smug expatriates like me from engaging in one of my pleasurable summer pastimes: of firing off text messages to friends and family shivering back home whilst luxuriating semi-naked on the beach.
Perhaps it will surprise some outsiders to learn that this weekend marks the official start of the Australian ski season. Yes, there is one.
Changing character
There are a couple of things to say about Australia in the winter. First of all, much of the country seems almost to deny its very existence.
A surprisingly large number of homes - mine included - do not have central heating. A surprisingly large number of people continue to dress as if it were summer.
Here, a Danish friend made a very telling observation the other morning: that she has never been in a country where you will see such a wide range of clothing on a single day; from flip-flops to Ugg boots, from singlets to scarves and from shorts to long-johns.
The character of Australia also changes with the weather. After coming together to enjoy the cricket in the summer, Australia goes its sporting ways in the winter. AFL, league or union. What sport you support in the winter will often indicate either your regional identity or your socio-economic identity.
After all the summertime fun of Australia Day, perhaps state consciousness also looms a little larger - especially if you are from New South Wales or Queensland and a fan of rugby league. It is mate against mate, and state against state.
Arguably, Australia becomes a lot more cultured in the winter, and more contemplative.
With the beach largely out of bounds in much of the country, many people head instead to the great literary festivals, art exhibitions and film festivals. Knowing they have a more captive audience, the television networks also put on their best dramas and shows - like Angry Boys (although its ratings have recently slumped).
Similarly, the political season always seems a little more intense in the winter, even though elections are generally held in the summer.
Here, Canberrans are probably grateful of whatever heat they can get - especially political reporters, for whom Parliament House must occasionally feel like Ice Station Zebra.
Tweeting merrily away the other day I suggested that Australia on Saturday morning should truly be called the Lycra Country. Not in Canberra, came a frosty reply.
Come winter, Australia definitely gets more culinary as well, partly due to the success of that television blockbuster, Masterchef, and partly because the barbie is out of bounds.
Shrimps are no longer hurled with quite such incautious abandon. Instead, many end up sat atop a lovingly created boiled lemon and artichoke heart salad.
So visitors who make the journey to Australia at this time of year will touch down in a noticeably different country. If you don't believe me, then I suggest you head to Bondi. From late June, it can boast its own ice rink.