South Korean football players charged in fixing scandal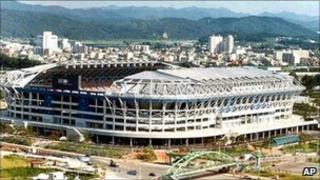 Prosecutors in South Korea have charged 10 football players for allegedly fixing results in the country's top professional league.
Nine K-League players are accused of taking bribes to influence the outcome of games in April, prosecutors say.
Eight of the players charged play for the Daejeon Citizen team, which lost a match in April.
Brokers and players from other teams have also been charged.
South Korea's sports minister has said penalties will be increased for match-fixing in all sports.
'Possible jail terms'
One Daejeon Citizen team member is accused of receiving 120 million won (£67,000; $110,000) and distributing it to seven others, prosecutors say.
The team lost to the Pohang Steelers on 6 April by a score of 0-3.
Another player, from the Pohang Steelers, is accused of allegedly betting on the match after finding out the outcome would be rigged.
The tenth player, from Gwangju FC, was charged with receiving 100 million won from a broker who tried to rig a match with Busan I'Park in April.
Last week, hundreds of players, coaches, referees and officials signed a pledge to stamp out match-fixing and other illegal activities.
Sports minister Park Sun-kyoo has said in addition to fines and possible jail terms, players would face a lifetime ban and their clubs would lose points if they were found to be involved in match-fixing.