Death sentence over Inner Mongolia herder killing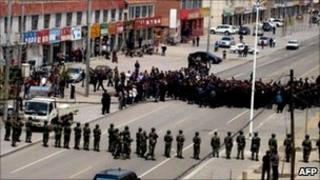 A Chinese coalmine worker has been sentenced to death by a court in Inner Mongolia for killing an ethnic Mongolian herder, state media say.
Truck driver Li Lindong was accused of running over the herder as he tried to block the vehicle's path in protest.
His co-driver was given a life term for the death, which led to the region's worst unrest in many years.
Ethnic Mongolians say the majority Han Chinese are eroding their rights, especially with mining projects.
The region has traditionally been home to nomadic Mongolian herders, but has seen an influx of mining companies keen to exploit the region's rich coal reserves, which has damaged grazing lands.
Less than 20% of Inner Mongolia's estimated 25 million residents are ethnic Mongolians.
Quick trial
The herder, named Mergen, was with about 20 other protesters at the time of his death as he tried to stop the coal truck driving across pastureland.
Mergen was run over and dragged nearly 150m (490ft) before he died, officials said.
Two others who helped the defendants flee the scene were sentenced to three years for obstructing justice, state news agency Xinhua said.
The herder's death on 10 May led to a series of protests in towns and cities across Inner Mongolia - which the security forces acted quickly to put down.
The incident reveals the tension between traditional Mongolian herders and miners looking to exploit the region's natural resources, says the BBC's Michael Bristow in Beijing.
The six-hour trial comes just weeks after the incident, with the authorities keen to show they are satisfying the calls for justice, our correspondent says.
The Chinese government has announced plans to address the protesters' concerns, including a crackdown on unmonitored coal extraction and measures to ensure more environmentally sound mining.