China executes student for murder of hit-and-run victim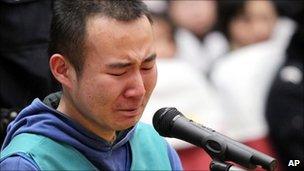 A Chinese student who murdered a woman to try to cover up a road accident has been executed, say state media.
Yao Jiaxin, 21, was put to death in Xian, Shaanxi province in northern China on Tuesday.
Yao is said to have stabbed 26-year-old mother Zhang Miao to death, fearing she would pursue him for compensation after he hit her with his car last October.
The case - called "odious" by the Supreme Court - sparked a debate about the morality of young people.
It caused renewed hand-wringing about the morals of the so-called "rich second generation" - the offspring of those who have prospered with China's economic expansion, say correspondents.
Yao's parents reportedly worked in China's booming defence industries.
Yao was a student at the Xian Conservatory of Music when he is said to have knocked over Zhang, a waitress, on her bicycle while driving in the city.
According to reports she suffered only minor injuries in the collision but, believing she would report him to the police, Yao stabbed her eight times with a knife and fled the scene.
He is reported to have handed himself in to the authorities four days later, accompanied by his parents.
But that was not considered grounds for leniency when he was tried by Xian's Intermediate People's Court, which convicted and sentenced him to death on 22 April.
Yao confessed he killed Zhang because he feared the "peasant woman would be hard to deal with" over the accident, Xinhua said in an earlier report.
The high court turned down his appeal and the death sentence was later approved by the Supreme People's Court.