Li Na victory prompts calls for China sport reforms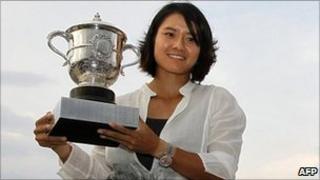 China's top tennis official has called for reform to the country's state-run sports system following the success of Li Na at the French Open this weekend.
Li Na is the first Asian tennis player to win a singles Grand Slam event.
The director of China's tennis programme says more athletes should follow Li Na's lead and break away from the country's sports system.
In 2008, Li opted out of the state system and set up her own training team.
Four Chinese tennis players, including Ms Li, Peng Shuai, Zheng Jie and Yan Zi, fought the Chinese state sports administration to manage their own careers.
Under the deal they were able to choose their own coaches and decide which matches to play. They also received a much greater share of their winnings.
Since the decision to break away, the 29-year-old has been in her best form, crowned by this weekend's French Open success. She beat defending champion Francesca Schiavone in straight-sets.
'Too rigid'
Following her victory in Paris, the country's top tennis official, Sun Jinfang, said other Chinese athletes were being held back by the system.
Ms Sun told the state-run Xinhua news agency that more athletes should be allowed to follow Li's lead in order to maximise their potential.
She stressed that there must be innovation in the centralised training system.
Li has climbed to seventh in the world tennis rankings on the strength of her talent and perseverance.
The Chinese authorities spend billions of dollars every year developing tens of thousands of athletes, often from a young age, says the BBC's Martin Patience in Beijing.
Adopted from the former Soviet Union, it is a system that has proved highly successful, most notably at the Beijing Olympics when Chinese athletes topped the medal-winning table, our correspondent says.
But the system has been criticised for being too rigid and for not catering to the individual talents of some of its athletes.
Pei Dongguang of the Capital Institute of Physical Education says the system was too huge to be abandoned.
"There are too many people and interest groups involved," he told the BBC.
"China has sports teams and administrations in provincial level, city level, county level etc.
"If we abandon the system, where do all these people go and find jobs?"