NZ quake: Christchurch hit by magnitude-5.0 aftershock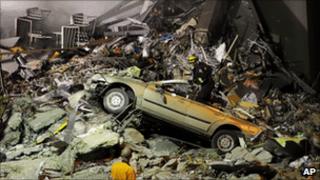 New Zealand's city of Christchurch has been hit by two shocks that closed some stores but caused no major damage.
The continuing shocks are expected to further delay recovery from the devastating 22 February quake.
The shocks - one of magnitude 5.0 - early on Monday caused goods on supermarket shelves to fall and smash, and increased nervousness in the city.
A total of 181 people died in the 6.3-magnitude quake in February, which also destroyed hundreds of buildings.
The latest quake hit at 0909 local time (2109 GMT on Sunday) and was centred 22km (13 miles) west of the city at a depth of just 3.8km (more than two miles), the US Geological Survey said.
New Zealand's GNS Science recorded it as a 5.5-magnitude quake
Stock fell off the shelves in the Warehouse supermarket, near the tremor's epicentre.
"The store's a bit of a mess. There's a lot of glass, but nothing too bad," said worker Jo Edmond, who admitted she was feeling "a little bit nervous".
Rolling ground
Fay Burson, manager of bottle store Henry's in Rolleston, said she had probably lost more stock in the latest shock than in February.
"It was a very severe initial jolt after a bit of a lull."
The Canterbury Quake Live website reported the shake was the sixth largest since last September's magnitude 7.1 quake.
A Christchurch Earthquake Recovery Authority (Cera) spokesman said some buildings in Christchurch's red zone experienced a "small amount of movement".
Spectators and players at a rugby tournament for four- to 16-year-olds saw the ground "roll".
"Everyone stopped and looked, then carried on. Everyone's come to expect them now," Rolleston Rugby Club president David Egan said.
Some people reported seeing the jolt hit the ground, he added.
"They could see it rolling, heading towards the clubhouse. It hit the car park first and lifted some vehicles off the ground, then hit the clubhouse."
New World Rolleston store owner Roy Bridgman said: "You never get used to it, but it's a fact of life and you just have to carry on."
About 10,000 houses and nearly 1,000 commercial buildings will have to be demolished as a result of the devastating quake in February.
Quake recovery and reconstruction costs are expected to total at least NZ$15bn ($11bn; £7bn).