Tiananmen: Thousands in Hong Kong mark crackdown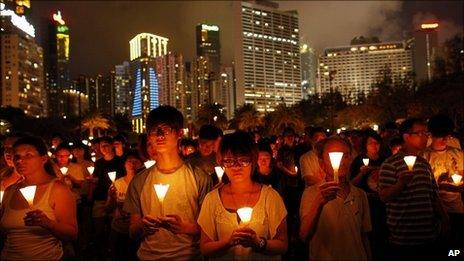 Tens of thousands of people have attended a candlelight vigil in Hong Kong to mark the 22nd anniversary of the Tiananmen crackdown in Beijing.
Hundreds of people were killed in the Chinese capital as soldiers and tanks moved to clear Tiananmen Square of pro-democracy demonstrators in 1989.
This year's anniversary comes as China continues a crackdown on dissent, arresting dozens of activists.
Public discussion of the Tiananmen killings remains taboo in China.
Organisers of the Hong Kong vigil said 150,000 flooded into Victoria Park, holding candles and listening to speeches.
Police put the number at 77,000, AFP news agency said.
Hong Kong, long a British colony, was returned to Chinese rule in 1997 but retains a separate legal and political system.
"Hong Kong is an open place," said participant Tse Ting-ting at the vigil.
"This is a good night for us to commemorate the group of students who tried to create freedom in China on June 4."
Lee Cheuk-yan, a Hong Kong legislator and one of the organisers of the vigil, called for Beijing to release dissident artist Ai Wei Wei and other activists.
"We can see that now for China, it is the darkest age for human rights. We can see all the human rights defenders being arrested and suppressed," he said.
"They should start political reform and return the power to the people," Mr Lee added.
China began arresting activists earlier in the year, as anti-government protests spread across the Middle East and North Africa.
The US has called for the Chinese government to release those still in prison for involvement in the Tiananmen protests and give a full accounting of those killed and wounded as the demonstrations were quashed on the night of 3-4 June 1989.
Chinese foreign ministry spokesman Hong Lei said the US comments "groundlessly accused the Chinese government".
In the wake of the 1989 crackdown, the Chinese government called the protests a "counter-revolutionary plot". Since then the language has softened but the government still refuses to tolerate open discussion of the events.
Recently, there have been reports that Chinese officials have approached the families of those killed as the protests were cleared with offers of compensation.