New charges for 9/11 suspects held at Guantanamo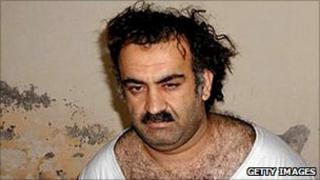 US military prosecutors have filed new charges against self-described 9/11 mastermind Khalid Sheikh Mohammed and four alleged co-conspirators, held at Guantanamo Bay.
The charges of murder and conspiracy could result in the death penalty.
Five defendants had previously been charged at Guantanamo over the attacks.
But the charges were set aside as the Obama administration tried to move the trial into US civilian courts; a move which was reversed in April.
The new charges are similar to those laid under President Bush's administration.
'Responsible A to Z'
The five men are charged with conspiracy, murder in violation of the law of war, attacking civilians, attacking civilian objects, intentionally causing serious bodily injury, destruction of property in violation of the law of war, hijacking aircraft and terrorism.
The Pentagon has said before that Khalid Sheikh Mohammed admitted to being responsible "from A to Z" for the 2001 attacks in New York and Washington, which claimed about 3,000 lives.
He was captured in Pakistan in March 2003 and sent to the US detention centre in Cuba in 2006.
US prosecutors say he has confessed to involvement in a host of terrorist activities in addition to 9/11.
Waterboarded 183 times
These include the 2002 nightclub bombing in Bali, Indonesia, the 1993 World Trade Center bombing, the murder of American journalist Daniel Pearl and a failed 2001 attempt to blow up an airliner using a shoe bomb.
In a 2007 hearing, Mr Mohammed alleged that he had been tortured at Guantanamo Bay. CIA documents confirmed that he had been subjected to waterboarding - simulated drowning - 183 times.
The other four accused are: Waleed bin Attash, a Yemeni; Ramzi Binalshibh, a Yemeni who allegedly helped find flight schools for the hijackers; Ali Abd al-Aziz Ali, accused of helping nine of the hijackers travel to the US; and Mustafa Ahmad al-Hawsawi, a Saudi, accused of helping set up the hijackers with money, clothes and credit cards.
President Barack Obama's original intention was to close Guantanamo Bay, and have the five tried by federal courts on US soil.
He abandoned that plan in April, because of opposition in Congress.
Instead, the five accused will be tried by a military commission, sitting at Guantanamo Bay.