North Korea releases US citizen Eddie Jun Yong-su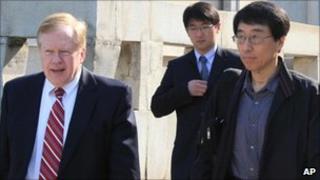 An American man who was detained in North Korea for six months on unspecified charges has been released.
Eddie Jun Yong-su, who was reported to have been involved in missionary work, left Pyongyang with a delegation from Washington led by envoy Robert King.
The North had said he would be freed on humanitarian grounds following repeated requests by visiting US officials.
Mr King, who was in the country assessing food needs, said the North had not been promised aid in return.
Mr Jun appeared to be healthy and in good spirits as he left Pyongyang with Mr King's delegation, but did not speak to reporters.
The delegation then flew to Beijing, where Mr King told reporters Mr Jun would be reunited with his family "in a day or two".
Religious sceptics
Mr Jun, a Korean-American, was arrested in November - officials said he had confessed to "a grave crime".
It is believed he may have been carrying out missionary work while visiting the communist state on business trips.
The officially atheist North views organised religious activity as a potential challenge to the leadership.
But on Friday, Pyongyang said Mr Jun had "expressed regret at the incident on behalf of the US government and assured that it would make all its efforts to prevent the recurrence of similar incident" so would be freed.
The US state department welcomed the move as "a positive step".
North Korea is believed to be chronically short of food and the US is considering whether to resume its food aid to the country.
The programme was suspended two years ago as relations between Washington and Pyongyang deteriorated.
Mr King, US special envoy for human rights, said his delegation had had "very serious and thoughtful talks with the foreign ministry", without giving further details.
But he said they "did not negotiate or agree to any provisional food assistance", adding that the decision would be made in Washington.