Hong Kong art fair opens with nod to China's Ai Weiwei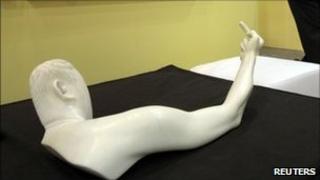 Hong Kong's growing international ART HK 11 fair has opened with a nod to Chinese activist artist Ai Weiwei, currently in detention in China.
One of his works, a sculpture from 2007 called Marble Arm, is among the thousands of exhibits.
It features a defiant raised middle finger. Protest T-shirts and badges in support of Mr Ai are also on sale.
Mr Ai - a vocal critic of the Chinese government - was detained in April trying to board a flight for Hong Kong.
The Chinese government has alleged that Mr Ai is involved in tax evasion and destroying evidence; his supporters say the charges are politically motivated due to his activism in recent years.
The Marble Arm on display in Hong Kong is connected to a series of photographs entitled Study of Perspectives that Mr Ai had created since 1995.
The study features the artist raising his middle finger in front of buildings including the White House in Washington, the Eiffel Tower in Paris and China's Tiananmen Square, as a gesture questioning centres of power.
The artwork is being displayed by the Swiss-Beijing dealer Galerie Urs Meile, which has worked with Mr Ai since the late 1990s.
About 260 galleries from around the world are exhibiting works at the fair, and many local galleries are mounting special shows to coincide with the event.
The growing wealth of the mainland Chinese elite remains the primary focus of the fair, where both collectors and investors are gathering for three days.
Other artworks on show range from Picasso to Damien Hirst, along with works displaying more Chinese characteristics.