North Korea: Kim Jong-il 'in Beijing to meet Hu Jintao'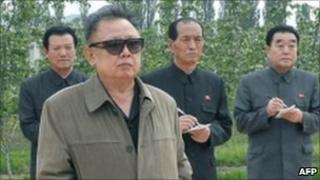 North Korean leader Kim Jong-il is reported to be in Beijing for a summit with Chinese President Hu Jintao.
The secretive leader's armoured train was spotted in the capital and later a heavily guarded motorcade sped through the city.
China had already confirmed Mr Kim was in the country, on his third visit in little more than a year.
It comes as the North faces another severe food shortage and diplomatic isolation over its nuclear programme.
North Korea's economy has collapsed in recent years and correspondents say China is keen to avoid a political crisis that could send masses of refugees over the border.
Mr Kim is also said to be soliciting Chinese support for his youngest son to succeed him as ruler.
Both countries usually do not announce details of Kim Jong-il's visits until they are over.
Food shortages
A BBC correspondent in Beijing, Martin Patience, says that for Kim Jong-Il the contrast could hardly be greater.
China is the world's fastest growing major economy - and back home, North Korea is facing a famine.
That Mr Kim is on his third visit to China in a year underscores Beijing's importance to Pyongyang.
Mr Kim's reported visits to factories and industrials parks in northern China is an attempt by Chinese officials to show the benefits of economic reform, our correspondent says.
The World Food Programme (WFP) estimates that six million North Koreans are suffering from food shortages.
A US envoy for human rights, Robert King, is on a week-long visit to the country to assess the severity of the shortages.
There has been fierce debate about whether Pyongyang is exaggerating the food problem to allow it to feed its army or stockpile supplies.
North Korea is isolated in the international community because of its nuclear weapons development programme.
Pyongyang is believed to have enough plutonium to build about six atomic weapons.
Talks on North Korea's denuclearisation stalled in 2009. Efforts to revive them were complicated by North Korea's apparent sinking of a South Korean warship last March at the cost of 46 lives, and its shelling of a South Korean border island in November.
Seoul has wanted apologies, or at least acknowledgement, from the North before talks can resume.
Previous approaches to persuading the North to end its nuclear plans have included promises of aid and replacement technologies for Pyongyang.