Farewell then Shane Warne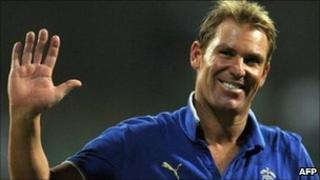 Of all the highlights and experiences from my stint in Australia, I suspect that one will linger in the memory much longer than most: I got the chance once to see the great Shane Warne tweet.
It was on a plane from Sydney to Melbourne, and needless to say his technique was flawless. He sat on the edge of his business class seat, with the raring-to-go look of a child about to unwrap a present on Christmas morning.
He held his BlackBerry at eye level, grasped firmly in two hands. Then, as the hostess asked everyone to turn off their mobile electronic devices, he wove his magic. His fingers and thumbs were a bamboozling blur as he punched out a quick, 140-character message and then pressed send. Not quite the tweet of the century, admittedly, but impressive nonetheless.
I mention all this because while Warney will no doubt continue to pursue a successful career in tweeting, he retired last week as a cricketer - the activity for which he used to be famous.
It happened last Friday, on Indian soil, and we should have bid him a proper farewell.
From his storied career, I suspect that two gloriously contradictory images of Shane Keith Warne will have lodged themselves into the British consciousness - perhaps the Australian consciousness, too.
The first was his inaugural ball in Ashes cricket at Old Trafford in 1993 that perplexed our great English oak-heart, Mike Gatting.
The second was Warney dressed in nothing but a pair of skimpy briefs looking quizzically at an inflatable penis, a grainy spy-cam shot that graced the pages of the British tabloid News of the World. Not for Warney, you will note, the flimsy protective fig-leaf of a super-injunction.
I prefer to remember the Warne of Wisden rather than the Shane of the Sunday tabloids -more recently, with the actress Liz Hurley, he has also shown off his Tatler side as well. But down the years, British sports fans have derived enormous enjoyment from both.
'Imperial prejudice'
I suppose that I should be writing about why Warney still attracts so much attention in his homeland. There is the obvious sporting explanation: the country's leading ever wicket-taker in test cricket, he was the main reason for its one-time global dominance.
Then there's the cultural explanation: Eddie Perfect, who wrote and starred in Warney: The Musical, put it well - Australia likes its national treasures a little chipped and tarnished.
Then there's the blatantly commercial explanation: the convolutions of his love life - digital or real-time - continue to sell newspapers and magazines.
Perhaps the more interesting question is why he has been such a popular figure in my homeland - a place where he inflicted so much agony.
The sporting reason, I suspect, is much the same. None of us has ever seen so richly talented a bowler. There's admiration, too, for his cricketing IQ - genius, I think most people would agree, for all the off-field evidence to the contrary.
Perhaps we also seized upon Warney as offering proof of our imperial prejudices. Gauche. Loud. Blonde - with a bit of help. Cocky. Unsophisticated. Is that not still how many Brits prefer to regard the Aussies?
But I suspect that the British have much the same dialogue with Warne as do the Aussies. We have watched in wide-eyed amazement at his peerless brilliance, and have then indulged in a bit of Sunday morning rubber-necking whenever he ran into trouble.
Truly then, he is a sports star of our age - a cricketing superstar equally at home in tests, tabloids and twitter.