US envoy in North Korea to assess food shortages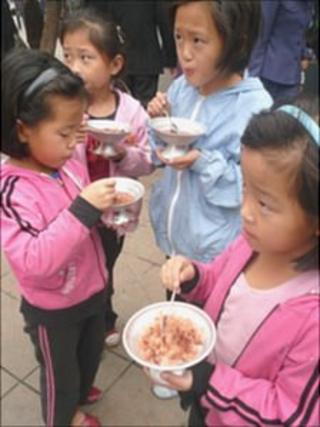 The US envoy for human rights in North Korea, Robert King, has begun a week-long visit to the country to assess the severity of its food shortages.
It is the first visit to Pyongyang by an American official in 17 months, and the first by a rights envoy since 2004.
The World Food Programme (WFP) estimates six million North Koreans are suffering from food shortages.
Mr King will look at whether the US should resume its food aid programme to the country.
The programme was suspended two years ago as relations between Washington and Pyongyang deteriorated.
There has been fierce debate about whether Pyongyang is exaggerating the food problem to allow it to feed its army or stockpile supplies.
On his return from a trip to North Korea last month, former US President Jimmy Carter criticised the US and South Korean governments for withholding aid from the North.
Educating Kim
The United States envoy on North Korea, Stephen Bosworth, visited South Korea last week.
Mr Bosworth said he had reached a common view with Seoul on food aid for the North, but refused to give details.
His visit followed a leaked UN report on North Korea's alleged sharing of ballistic technology with Iran, the public release of which has been blocked by China in the United Nations.
Talks on North Korea's denuclearisation stalled in 2009. Efforts to revive them were complicated by North Korea's apparent sinking of a South Korean warship last March at the cost of 46 lives, and its shelling of a South Korean border island in November.
Seoul has wanted apologies, or at least acknowledgement, from the North before talks can resume.
Previous approaches to persuading the North to end its nuclear plans have included promises of aid and replacement technologies for Pyongyang.
Separately, the North Korean leader Kim Jong-il is continuing his visit to China.
The South Korean news agency Yonhap has reported his touring of several economic development zones, a concept which his closest ally, China, is believed to be encouraging him to pursue.