China confirms North Korean leader Kim Jong-il visit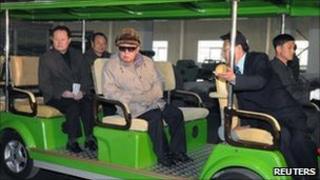 The North Korean leader Kim Jong-il is visiting China to better understand the country's economic development, the South Korean government has said.
A spokesman for South Korea's President Lee Myung-bak said the Chinese prime minster had briefed Mr Lee on the trip over the weekend.
Kim Jong-il reportedly arrived in China on Friday morning and is believed to be still touring the country.
This kind of openness about a visit by the North Korean leader is rare.
Neither North Korea nor China usually confirms Mr Kim's trips until he's returned to Pyongyang.
There has been a great deal of speculation about why Kim Jong-il might be touring his giant neighbour - his third visit there in a year.
According to a spokesman from the South Korean president's office, it is an educational trip - the result of an invitation from Beijing to "understand the development of China, and be able to use it" for their own development back home.
North Korea's economy relies on aid and the country says its facing severe food shortages this year.
The World Food Programme has already launched an emergency operation there, and the US special envoy for North Korea Human Rights is due to arrive in Pyongyang on Tuesday to assess its food security needs.
There is confusion over whether Kim Jong-il's youngest son Kim Jong-un is also visiting China.