US to help South Korea in Agent Orange inquiry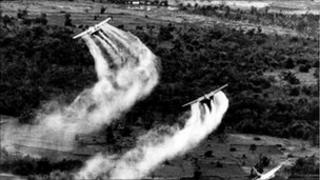 South Korea and the US have agreed to hold a joint inquiry into allegations that American soldiers dumped large amounts of Agent Orange on Korean land.
Three US Army veterans said they buried about 250 barrels of the hazardous chemical at a US military base in Chilgok, south-east of Seoul, in 1978.
Seoul said a joint inspection team would be sent to the camp.
The US used Agent Orange in the Vietnam War to clear jungle. Vietnam says it caused millions of birth defects.
Campaigners for US veterans of the Vietnam War also say exposure to the chemical defoliant is associated with higher instances of cancers and other diseases.
'We filled it full of barrels'
American broadcaster KPHO first publicised the claims that US troops buried the barrels at Camp Carroll in Chilgok in a documentary that was broadcast last week.
Three Vietnam War veterans told the channel that they had been involved in the operation.
"We went and dug a big hole in the ground on the back side of the post, and then we filled it full of barrels," said Richard Cramer.
Another veteran, Robert Travis, told KPHO: "On the barrels it said Chemical Type Agent Orange."
The claims have been reported widely in South Korea, with analysts predicting an anti-US backlash if the story is substantiated.
Senior government official Yook Dong-han said the US understood the "urgency and seriousness" of the situation and had agreed to share all information with Seoul.
"The governments of South Korea and the US have agreed to swiftly proceed for a joint investigation into the alleged Agent Orange burial at the USFK [US Forces Korea] base of Camp Carroll," Mr Yook said.
American forces used Agent Orange to strip foliage from Vietnam's jungles to expose Viet Cong soldiers.
But its use was halted in 1971 amid fears that US soldiers were being badly affected by inhaling the chemical.
Studies have concluded that children are more likely to be born with defects such as cleft palates or extra fingers and toes in areas where Agent Orange was sprayed.
But Washington has argued that there is no internationally accepted scientific evidence linking Agent Orange to birth defects and other illnesses.