Japan PM to take visiting leaders to earthquake zone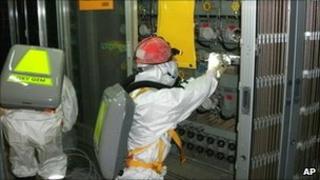 Chinese and South Korean leaders are in Japan for the first trilateral summit since the 11 March earthquake and tsunami.
Chinese Premier Wen Jiaobao and South Korea President Lee Myung Bak will visit Fukushima prefecture.
A damaged nuclear power station there is still leaking radiation.
Japanese Prime Minister Naoto Kan is keen to use the meeting to reassure other countries about the safety of Japanese products.
The three leaders will meet people forced to abandon their homes by the nuclear crisis.
In Fukushima city they will visit a gymnasium that is being used as an evacuation centre.
It is about 60km (40 miles) from the power station where Japan now admits three reactors melted down.
No foreign leaders have been as close before.
But the talks between the three men will take place in Tokyo.
Reports here say China and South Korea refused to open them in Fukushima because they were not consulted before Japan released radioactive water into the Pacific Ocean.
Japan is expected to offer to share lessons it has learnt as the struggle continues to bring the power station under control.
And the three leaders are likely to discuss strengthening cooperation in the event of natural disasters.