Confusion over North Korean leader's China visit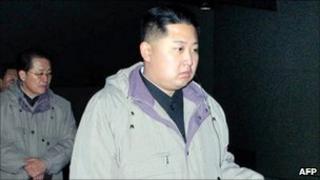 There is confusion over whether North Korean leader Kim Jong-il or his youngest son is visiting China.
A special train used only by the North Korean leadership is reported to have crossed the border early on Friday.
South Korean media say officials in the president's office have confirmed a sighting of Kim Jong-il as he arrived at a hotel in the city of Mudanjiang.
Earlier reports said Kim Jong-un was visiting. It is still unclear whether the heir apparent is with his father.
The BBC's Lucy Williamson in Seoul says a trip by the younger Kim to North Korea's main ally has been expected for months.
China is North Korea's main ally, and analysts say such a trip could be seen as Beijing giving public approval to North Korea's succession process.
Yonhap news agency and others, citing unnamed sources in China, earlier reported that Kim Jong-un had arrived in the north-eastern Chinese border city of Tumen.
Later South Korean reports, including Yonhap, said it was the elder Kim who had crossed into China.
Who was on the train, and what the purpose of this journey is, has not been clarified by officials on either side, our correspondent says.
Special relationship
North Korea's succession process has been opaque.
A rare session of North Korea's parliament in April failed to mention Kim Jong-il or Kim Jong-un.
Analysts had thought Kim Jong-un, who is believed to be about 28, would be appointed to the National Defence Commission.
He was made a four-star general last September and took a leading role in the ruling Workers' Party.
China remains the most important supporter of North Korea.
It has used its veto on the UN Security Council to block condemnation of Pyongyang for the torpedo attack on a South Korean warship in March 2010, which killed 46 southern sailors.
Most recently, China has blocked the release of a report which accuses North Korea of violating UN sanctions by trading ballistic missile technology with Iran.
China is also a key partner in the six-nation talks aimed at ending the North's nuclear programmes.