Indonesia jihadists forge networks in jail - new report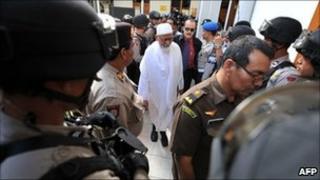 A new report has concluded that Indonesian prisons are incubators of terrorism where jailed jihadis form new links and even plan attacks.
The report, Jihadists in Jail, is based on interviews with 33 men convicted on terrorism charges.
It noted that terror convicts were frequently placed in the same prison block and allowed to mingle freely.
Indonesia has acted firmly against terrorism with international assistance since the Bali bomb attacks of 2002.
Detainees interviewed for the report, a year-long study by the Australian Strategic Policy Institute, include former members of the Jemaah Islamiyah network among others.
"The men said they had the opportunity to meet individuals whom they wouldn't have otherwise met because of the small cell structures and the high level of secrecy surrounding their activities.
"These interactions allowed many of them to better understand their specific roles in the organisation and the broader structure of terrorist organisations," says the report written by a former Australian government intelligence analyst Dr Carl Ungerer.
Sermons and meetings in prison mosques were a major source of concern, the report says.
'Freelance terror'
In some places, the convicts form "shadow governments" to run the jails, enhancing their reputations as fighters, preachers and freelance terrorists.
"We're no longer dealing with organisations or organisational hubs, we're dealing with individuals, some call them lone wolves, some call them freelancers," said Dr Ungerer.
"It means that the threat is not going away, if anything, it's getting worse," he told ABC.
They have been able to recruit members, make money by running business, communicate through laptops and mobile phones, send money from jail to jail and, at least once, co-ordinate an attack outside.
The report also says that members of previously hostile groups, such as Jemaah Islamiah and Darul Islam, learn to work together through their time in jail.
The institute is an independent organisation that was established by the Australian government to "inform the public on strategic and defence issues".
In recent years, Indonesia has introduced a combination of new laws, anti-terror training, international co-operation and reintegration measures to tackle militancy.