China blocks release of UN report on North Korea-Iran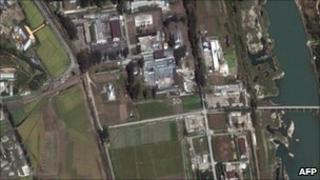 China has blocked the release of a UN report accusing North Korea of sharing ballistic missile technology with Iran in violation of sanctions.
China's UN ambassador said that Beijing was "still studying that report".
The report, which was leaked at the weekend, said the material passed through a third country, which was later identified by diplomats as China.
China has dismissed suggestions it was a transit point for the illegal shipments.
"I completely deny such reports," Assistant Foreign Minister Hu Zhengyue told a news conference on Wednesday.
Cargo flights
His comment echoed the sentiment expressed by the foreign ministry a day earlier that Beijing was "earnest and responsible in implementing Security Council resolutions".
The UN report, obtained by Reuters at the weekend, was written by a panel of seven experts appointed by the UN secretary general to monitor Pyongyang's compliance with sanctions.
It was sent to the 15 Security Council members for their approval. Diplomats said China was the only country to object to its release.
The leaked report said North Korea has continued to defy bans imposed by the UN on imports and exports of nuclear-related items, conventional arms and luxury goods.
It says North Korea exploited loopholes and other vulnerabilities in shipping and transportation practices, exchanging ballistic missile technology with Iran on board regular scheduled flights operated by the national carriers.
Cargo flights were used for some transfers, the report says, because security was less stringent than on passenger airlines.
UN sanctions, which ban all trade in nuclear and missile technology with North Korea, were imposed on Pyongyang in 2006 after its first nuclear test.
The UN has also imposed an arms embargo and subjected some North Korean individuals to travel bans and assets freezes.
North Korea has twice tested nuclear devices - in 2006 and 2009 - and said in September last year that it had entered the final phase of uranium enrichment.
The country is believed to have enough plutonium to make about six bombs, but is not thought to have developed a ballistic missile capable of carrying a nuclear warhead.