World's oldest panda Ming Ming 'dies aged 34' in China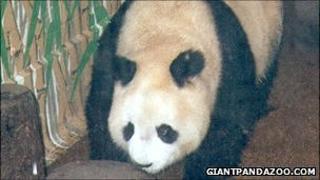 The world's oldest panda, Ming Ming, has died in China aged 34, reports say.
Ming Ming died last week at the Xiangjiang Wild Animal World in Guangdong Province, Chinese daily The Global Times reported.
The female panda had lived at Xiangjiang since 1998, but had also travelled to zoos in London and Ireland during her long life.
Vets found that her organs had deteriorated as a result of old age, leading to kidney failure.
Pandas do not usually live past the age of 22 in captivity, or 15 in the wild.
Ming Ming caused something of a diplomatic incident when she was sent to London Zoo in 1991 to mate with Berlin panda Bao Bao. She had to be returned to China after the two fought and failed to produce any cubs.