China's Forbidden City admits plans for 'rich club'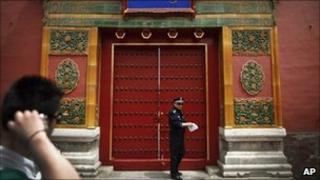 Officials at the former home of China's emperors have admitted that there were plans to open an exclusive private club inside the palace.
They had initially denied the historic site was being used for private profit.
Potential club members were apparently invited to a lavish opening ceremony inside the Forbidden City.
Media reports say they were being charged $150,000 (£92,600) each to join the club.
Photographs of the opening ceremony have been posted online.
They show attendants dressed as ancient warriors, as they might have done when emperors strolled the palace corridors.
Valuable museum pieces were said to be on display for the special guests, who dined on delicacies such as double-boiled superior fungus with Chinese herbs.
Another picture shows a welcome note prepared by the organisers. It says the club is intended as a meeting place for the "wise elites" in society.
The Forbidden City authorities say the club was being organised without their knowledge by the Beijing Palace Museum Royal Court Cultural Development Company, a firm linked to the museum.
"It made its own decision without approval from us to expand customer services and release membership invitation forms," the Forbidden City said in a statement.
Plans to go ahead and recruit members have now been scrapped.
The private club was being organised in the Jianfu Palace, a section of the Forbidden City that was built by the Emperor Qianlong in the 18th Century.
It burnt down in 1923 and was restored after several years of painstaking work in 2005, with money donated by a Hong Kong businessman.
The Forbidden City, in the heart of Beijing, was home to China's emperors in the Ming and Qing dynasties.