UN body to review Turkmenistan's human rights record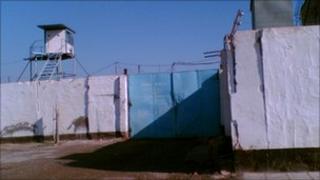 The UN Committee Against Torture is to review Turkmenistan's human rights record, which critics say is one of the worst in the world.
Human rights groups are using this opportunity to raise awareness of human rights in the Central Asian nation.
They have published several different reports ahead of a meeting in Geneva.
The rights organisations draw attention to issues such as the plight of jailed civil rights activists and the absence of political reforms.
'Soviet era abuses'
The Norwegian Helsinki Committee (NHC) has published a report on conditions inside a woman's prison in northern Turkmenistan.
It documents overcrowding, malnutrition and abuses such as the handcuffing of pregnant women while giving birth.
"For security reasons civil society activists who worked on the prison report could not publish it under their names," NHC member Ivar Dale says.
The Turkmen authorities have prepared their own briefing document which details existing legislation that guarantees rights and freedoms to its citizens.
But Turkmenistan is ranked at the bottom of the Economist Democracy index - along with Chad and North Korea - and analysts say those laws only exist on paper.
In its briefing paper to the Geneva-based committee, Human Rights Watch has accused the government in Ashgabat of exercising total control of public life.
The rights watchdog claims that practices from the Soviet era - such as holding dissidents in psychiatric units and sending others into internal exile - are still common.
Energy talks
Last month an EU fact-finding mission on human rights was carried out in Turkmenistan ahead of a decision to be made by the European Parliament in June on whether to ratify an important agreement with Turkmenistan.
The Partnership and Co-operation Agreement (PCA) would lay the ground for increased trade and economic ties between the EU and Turkmenistan, especially in energy.
Turkmenistan has the fourth largest natural gas reserves in the world and could become a future energy partner for the EU.
Rights groups have repeatedly urged the EU not to ignore the country's poor human rights record in its quest for more natural gas.
Ana Gomes, an EU delegate who was part of a recent human rights mission to Ashgabat, says members are divided over whether or not to recommend ratification of the PCA.
"My own view is that there has not been significant progress in improving the human rights situation. The dialogue has been pretty empty," she says. "But Europe believes in a policy of engagement."
In early May, an EU-sponsored human rights resource centre opened in Ashgabat, the first of its kind.
Some question whether the centre will make a difference.
"It will be interesting to see if all of the reports presented to the UN Committee Against Torture ahead of its review of Turkmenistan will be available in that centre," says Ivar Dale.