NZ quake: Special inquest into last nine victims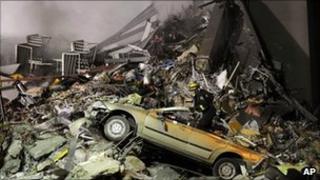 A special inquest has opened in New Zealand into the deaths in the Christchurch earthquake of nine people who remain formally unidentified.
Chief coroner Neil MacLean has so far pronounced dead three Chinese women.
Their phones, bank accounts and passports had not been used, and their families deserved closure, he said.
A total of 181 people died in the 6.3-magnitude quake that hit New Zealand's second city on 22 February, destroying hundreds of buildings.
The remains of the nine people in question were too incomplete to allow for formal identification.
Even DNA testing proved inconclusive, prompting the special inquest, which is scheduled to run until Wednesday.
Four were Chinese and one Filipino. Others were born in Peru and Russia.
They had been reported as being in the Canterbury Television (CTV) Building before it collapsed, and have not been seen since.
Painful stories
"To say that this is an extraordinary type of inquiry is an understatement," Mr MacLean told the hearing. "The emotions of course are still raw."
The six women whose fate Mr MacLean is examining are: Jinyan Leng, 30, Xiujuan Xu, 47, Didi Zhang, 23, and Xiaoli Zhou, 26, of China; Rhea Mae Sumalpong, 25, of the Philippines; and Elsa Torres De Frood, 53, a Peru-born New Zealand resident.
The men who have not been found are: Matthew Lyle Beaumont, 31, and Shawn Lucas, 40, of Christchurch; and Valeri Volnov, 41, a Russian-born New Zealand resident.
The inquest heard painful stories from friends about how they tried to contact those among the missing nine.
Chinese consular officials attended the inquest in Christchurch to hear evidence about the deaths of the four Chinese nationals.
A total of 115 lives were lost in the CTV building, which collapsed and burned.
About 10,000 houses and nearly 1,000 commercial buildings will have to be demolished as a result of the devastating quake.
Quake recovery and reconstruction costs are expected to total at least NZ$15bn ($11bn; £7bn).