Thaksin Shinawatra's sister Yingluck to run for Thai PM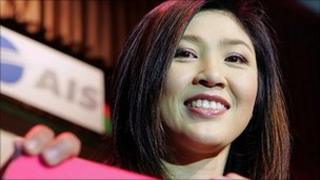 The sister of Thailand's ousted prime minister Thaksin Shinawatra has been named as the main opposition party's candidate to contest the 3 July poll.
Yingluck Shinawatra would become the country's first female leader if the Pheu Thai party wins the election.
The 43-year-old businesswoman has almost no experience of politics.
Thaksin Shinawatra was forced from power in a 2006 military coup and lives in self-imposed exile in Dubai to avoid a prison term.
Despite this, he still effectively controls the Pheu Thai party.
The election is the first since the army crushed an occupation by Mr Thaksin's supporters in central Bangkok last year. More than 90 people died in the course of the prolonged protests.
The poll will also be the first electoral test for Prime Minister Abhisit Vejjajiva's government, which came to power in 2008 after a court dissolved the then governing party.
He is seeking the direct popular mandate his critics say he currently lacks.
Thailand remains deeply divided and analysts expect the election will be a very close race.
Feminine charm?
Yingluck Shinawatra was nominated unopposed to the number one position on the Pheu Thai party list.
She is a successful businesswoman with little political experience but instant name recognition. The question is whether that will attract or repel Thai voters, says the BBC's Rachel Harvey in Bangkok.
Thaksin Shinawatra still wields considerable influence in Thai politics, despite being in exile - but he is a hugely divisive figure, our correspondent says.
To his supporters, he is a champion of the disadvantaged who was unconstitutionally forced from power by powerful elites, backed by the military.
To his critics, Mr Thaksin was a corrupt and authoritarian leader who manipulated gullible voters.
His youngest sister, Yingluck, now has the job of galvanising the base without alienating potential swing voters on whom the outcome of July's election may well rest, our correspondent says.
Yingluck Shinawatra, bidding to become the first ever female prime minister of Thailand, said she planned to use her attributes as a woman to promote national reconciliation and asked for the chance to prove herself.
"I am ready to fight according to the rules and I ask for the opportunity to prove myself. I ask for your trust as you used to trust my brother," she told a party meeting in Bangkok.
"I will utilise my femininity to work fully for our country," she said.